Shadow Dancers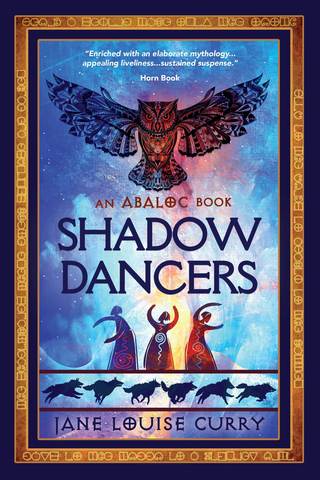 Three of the fabled Twelve Stones of the Aldar are missing and the young conjuror Lek, wrongfully accused of stealing the third, Nirim the Worldstone, braves the dark Shadowlands in search of the legendary Opal Mountain of Astarlind. There, where the Twelve Stones were mined in the First Time, he hopes to find another with magic as potent. With him goes Findral, one of the great Wolves of Aam. They are joined by young Fith of the Tiddi, a small, shy race older than Men, and his friends, the foundlings Cat and Arl.

Under the Shadow the companions encounter more dangers than the darkness that touches mind and heart, for the Rokarrhuk, goblin mercenaries of the evil Lord Naghar, patrol there, and winged spies are about. Belatedly, they realize that they have found more than the fabled mountain, for the honeycomb of caverns at its heart is the long-lost city of Avel Timrel--Or was. Now it is Nagharot, the fortress of the Lord Naghar and his half-human, half-lemur captains, the Illigans-- and the prison of the Ashkins, a folk strangely like the Tiddi.

With its jeweled caverns, mysterious ShadowDancers, fascinating characters and sudden terrors, the tale moves to a final, dramatic confrontation that unlocks many a riddle. Readers new to the land of Astarlind, as well as those who have shared the earlier adventures of The Wolves of Aam, will find themselves caught up in the mysteries and beauty of this magical high fantasy.


"A quest provides the impetus for Curry's latest fantasy. Outwardly it is a quest for the missing sky stones, so necessary to restore natural order to Asterlind. As in all good fantasy, however, there are more subtle seekings beneath the surface. Lek, the young conjurer seeks his lost honor as Cat and Arl, two foundlings, seek their lost identities. As they travel through the cold wasteland and magnificent opal caverns of the Shadowlands, battling the wits of Lord Naghar and his evil henchmen, all three find their identities as well.
    Curry constructs a traditional fantasy in a fresh and exciting way. She describes a mythical Asterlind in strong visual terms—"a cloud-heavy sky rode the shoulders of a mountain and gave mist and mountain alike the look of shadows in a dream—of a world made all of lead." … Each character's fate is bound up with another's in an intricate pattern which moves through the story like the intricate dances which are meant to nourish the cultural life of the Tiddis and maintain the planets in their courses.
    A sequel to The Wolves of Aam, Shadow Dancers introduces some new characters including the delightful Ashkins, tiny folk related to the Tiddi whose speech resembles a hive of buzzing bees. While the intricacies of plot and characters demand careful reading, Curry's storytelling skills should earn her a place among the best of today's writers of fantasy." --NCTE ENGLISH JOURNAL

"The characters have an appealing liveliness, while Lord Naghar and his sinister henchmen exude enough menace to sustain the suspense right through the closing chapters." -- E.R.T., HORN BOOK

"This second part of the fantasy set in Astarlind begins three months after the events in The Wolves of Aam. The young wolf Findral is serving as guide for Lek the conjuror as he continues his search for Nirim, the stolen Worldstone…. Arl, Fith and Cat reach Avel Timrel, the Lost City of the Silvrin first. Here they discover hundreds of pale Tiddi living as slaves in Everdark, the underground city in which they are forced to mine precious stones and create beautiful rooms. Through the use of knowledge gained from the old songs and observation of their surroundings, the friends conclude that the evil Naghar has been collecting the Twelve Stones or likenesses of them so he can distort the Gathering Dance and misuse its power, not realizing that this would result in the world's end. A daring plan, much of it executed by the youngles of Everdark. is successful in ridding Avel Timrel of [the] Naghar, the Rokarrhuk (his beast-like servants), the Dread Ones (terrible wolves) and the huge owls (spies). Arl and Cat discover their royal heritage and Lek finds the lost Worldstone… a fitting conclusion to The Wolves of Aam" --Phyllis K. Kennemer, SCHOOL LIBRARY JOURNAL