Hold Up the Sky, and Other Native American Tales from Texas and the Southern Plains.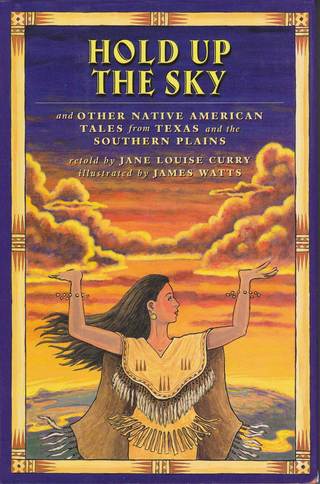 THESE TWENTY-SIX TALES from fourteen Indian tribes that lived in Texas or on the Southern Plains over the past two hundred and fifty years or so can be strange, like "The Beginning of the World," silly, like "Why Bear Waddles When He Walks," scary, like "Slaying the Monsters," funny, like "The Great Meatball," spooky, like "The Ghost Woman," or exciting tales of danger and courage, like "The Deserted Children" or "Young Boy Chief and His Sister."

The early peoples of the Texas coast all have vanished, most of them hundreds of years ago, leaving behind only their names. No stories. The inland Bidai and other tribes in eastern Texas are gone, too, leaving no tales behind because the invading European colonists and Texan settlers did not listen. Of the early Texas tribes, only the Tonkawan and Caddoan-speaking farmers of central and eastern Texas survived to tell their tales to scholars and collectors of folklore.

Much changed at the coming of horses with the Spanish. With horses, Indian hunters could follow the buffalo herds, and so the farming tribes gained new neighbors. Comanche, Kiowan, Lipan-Apache and Kiowa-Apaches hunters from the west and north moved into the southern plains to become nomads following the buffalo. From the east came the Siouan Osage and Quapaw, crowded out of their own lands. A map of Texas that tried to show the movements of all these and the many other tribes of Texas and the southern plains between the sixteenth and twentieth centuries would end up being a spaghetti-tangle of lines and arrows.

The tribes of Texas and the southern plains that lived to tell their tales have left us a feast of stories from at least five different language "families"—related tribes that spoke similar languages—and five different cultures. Some of the stories were told to teach caution to children, others to stir fear or wonder or laughter in every heart around the campfires.

Step into the story circle and listen…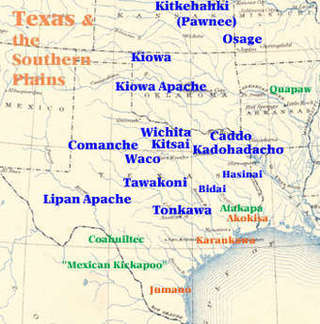 The locations shown on the map indicate roughly the areas where the farming tribes lived, and where the migrations of the others ended before, at last, they were displaced by the settlers.

If you would like to learn more about the Indian tribes of Texas, there are many web sites full of tribal history, information, and lore to visit when you have time to explore. If you are interested in a particular tribe, many do have web sites. The larger sites, www.texasindians.com and the "Handbook of Texas" site have alphabetical entries for many of the nations, bands, and tribes. The "Handbook of Texas" can be found at www.tsha.utexas.edu/handbook/online.

THE BEGINNING OF THE WORLD - Tejas (Hasinai)
COYOTE MAKES THE SUN - Kiowa-Apache
WHY BEAR WADDLES WHEN HE WALKS - Comanche
THE QUARREL BETWEEN WIND AND THUNDER - Lipan-Apache
THUNDERBIRD-WOMAN, SKIWIS, & LITTLE-BIG-BELLY-BOY - Waco
THE MONSTERS AND THE FLOOD - Wichita
COYOTE AND THE SEVEN BROTHERS - Caddo
SLAYING THE MONSTERS - Kadohadacho
HOLD UP THE SKY! - Lipan-Apache
COYOTE AND MOUSE - Tonkawa
COYOTE AND THE SMALLEST SNAKE - Tawakoni
COYOTE FLIES WITH THE GEESE - Lipan-Apache
COYOTE FREES THE BUFFALO - Kitsai
THE GREAT MEATBALL - Comanche
THE FIGHT BETWEEN ANIMALS & INSECTS - Lipan-Apache
HOW RABBIT STOLE MOUNTAIN-LION'S TEETH - Caddo
FOX AND POSSUM - Kitkehahki, South Band Pawnee
SENDEH SINGS TO THE PRAIRIE DOGS - Kiowa
THE DESERTED CHILDREN - Comanche
MOUNTAIN LION AND THE FOUR SISTERS - Osage
HOW POOR BOY WON HIS WIFE - Kiowa-Apache
THE GHOST WOMAN - Kiowa-Apache
THE BOY WHO KILLED THE HILL - Osage
WHITE FOX - Kiowa
THE TONKAWA AND THE BEAR - Tonkawa
YOUNG-BOY-CHIEF AND HIS SISTER - Wichita


"A 'Best Children's Books of the Year' selection" --BANK STREET COLLEGE OF EDUCATION

"A stellar collection of Native American tales." --KIRKUS REVIEWS

"This collection will appeal especially to storytellers searching for new material and to teachers and students of Native American folklore." --SCHOOL LIBRARY JOURNAL